We put forward a broad range of Rubber Car Stopper. This stopper prevents cars from pulling too far into residential or commercial parking spaces. In tune with industry quality standard, we provide this stopper in different specifications, as per the need of our clients. Our quality controllers perform a series of test on different parameters, in order to make sure the quality of this stopper.
Features:
Prevents Cars from Pulling too far into Residential or Commercial Parking Spaces
Rugged, Durable, Reliable Rubber Wheel Stopper
Provides Convenient Vehicle Parking Assistance
High-Visibility, Bright Yellow Reflective Safety Strips
Easily & quickly Installed via 3 Recessed Mounting Holes
Integrated Mounting Holes for Permanent Installation
Safe for Motorists and Pedestrians
Cost Effective Alternative to Asphalt or Concrete
Excellent Resistance to Fading, Cracking or Chipping in the Harsh Weather.
Our Quality Controllers perform a Series of Tests on Different Parameters, in Order to Make Sure the Quality of this Stopper.
Used for Car, Truck, Bus, Van, Trailer, RV, Forklift & More
Can be Used Indoors and Outdoors
Application:
These rubber wheel stoppers are usually applied in the commercial parking areas, loading dock environments, truck & trailer yards, auto workshops to set the brakes and prevent accidental movements, to ensure the safety for vehicles and occupants.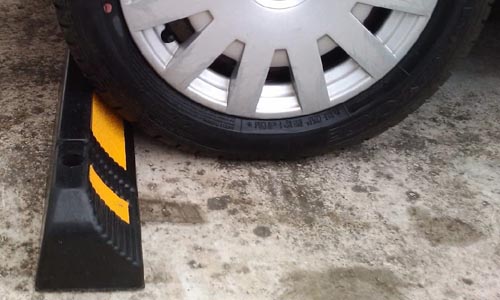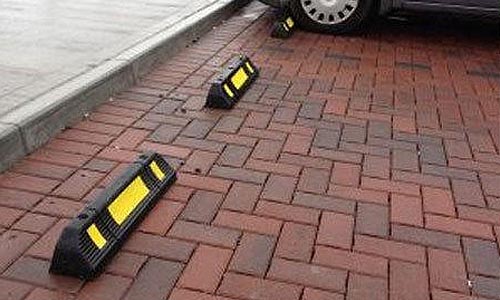 MODEL
MATERIAL
SIZE
WEIGHT (kg)
COLOR
Long Length Wheel Stopper
Rubber
1600 mm (L)
150 mm (W)
100 mm (H)
12-14
Black & Yellow
Short Length Wheel Stopper
Rubber
530 mm (L)
120 mm (W)
90 mm (H)
4-6
Black & Yellow